Climate change is a major challenge facing the world, and reducing carbon dioxide and other greenhouse gas emissions is an important measure in controlling global warming and achieving sustainable development. The Chinese government is committed to peak carbon dioxide emissions before 2030 and achieve carbon neutrality before 2060, which coincides with Volkswagen Group's goal of achieving carbon neutrality across the entire product lifecycle by 2050. As an effective means to achieve carbon neutrality, afforestation not only contributes to carbon sink, but also helps prevent wind erosion and soil loss, enriches biodiversity, and improves the local ecological environment. In 2021, Volkswagen Group China, together with Volkswagen brand, Audi and ŠKODA, kicked off its "Green Belt" afforestation project, in order to promote the sustainable development of the ecological environment in China.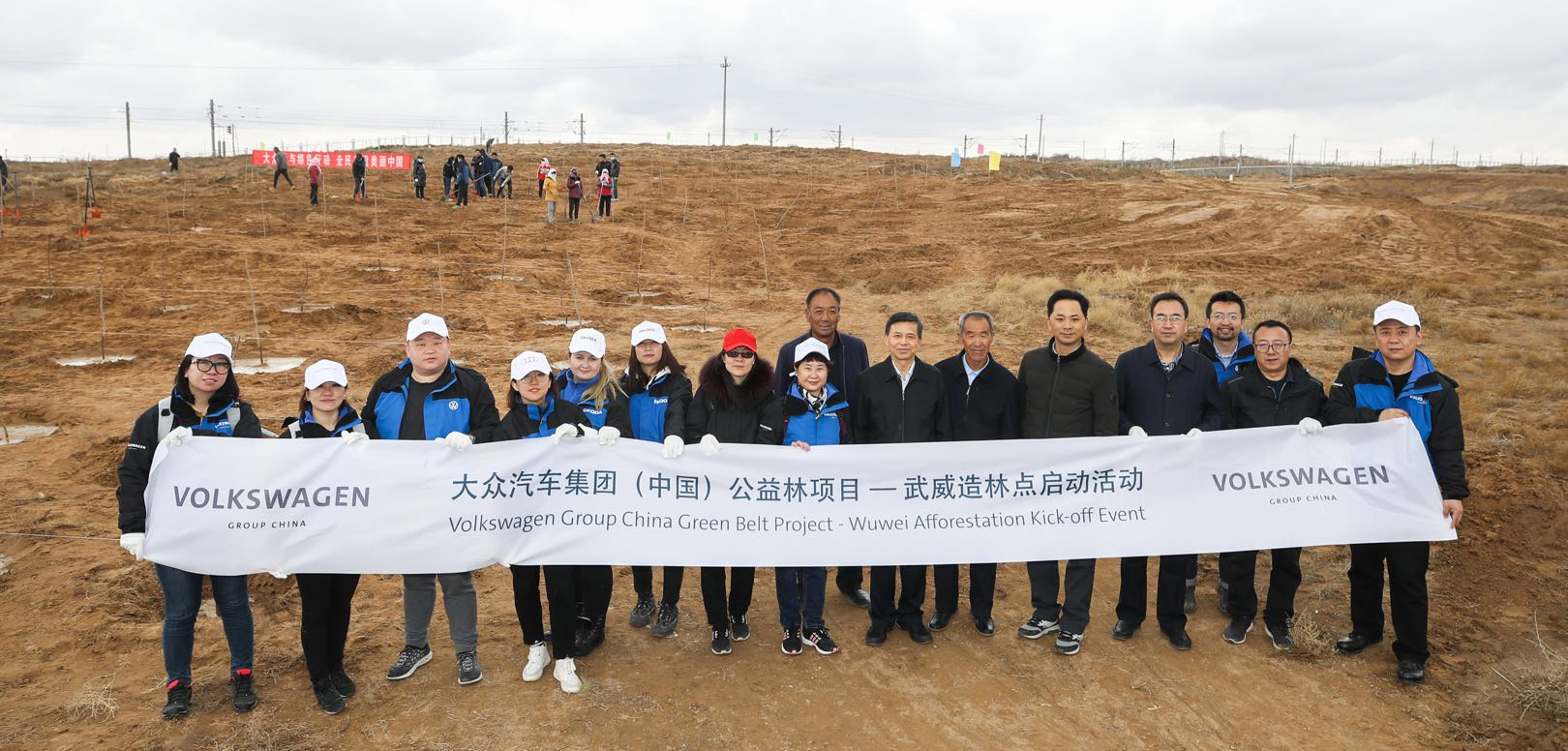 Over the next ten years, the Group, in close cooperation with the China Green Foundation, will plant trees in 10 ecologically fragile areas stretching across the north of China, including Wuwei, Haibei, Jiuquan, Zhongwei, Bayannur, Ulanqab, Chifeng, and other cities. Tree species for planting will be selected according to the Natural Based Solution (NBS) principle, attaching equal importance to protection and local ecological restoration, improving the living environment of residents and supporting local development. The total trees will be planted is more than 8.5 Mio. and the afforested area will cover more than 40 million square meters, equal to roughly twice the size of Volkswagen Group's industrial footprint in China.*
On April 1, 2021, "Green Belt" was officially launched in Wuwei, Gansu Province. The afforestation site is located in the new eco-immigration area of Gulang County, Wuwei. By planting 850,000 locally suitable plants such as white elm, elaeagnus angustifolia, caragana microphylla and scoparium, along the Ganwu railway line, an ecological barrier spanning around 26 kilometers will be created for the local eco-immigration area to prevent the spread of desertification to the immigration area, protect the production and living facilities of local residents, protect the local ecology, and aid in rural vitalization.
*As of Apr. 2020.